2018 Tossable Digits Customer Satisfaction Survey Results
Each year we take some time to review how the past year went from the perspective of our customers.
We already measure so much about how the service is working and how customers are using the service, down to checking every 30 seconds to ensure the site and APIs are responding quickly. In addition to all of that data, we need to check in with you to make sure we are on the right track.
Leadership Principles
Internally we roughly follow the Amazon Leadership Principles to help guide each employees' day-to-day interactions with customers and our service. When I worked at Amazon, it was amazing to see how powerful these Leadership Principles can be at focusing a team on one common goal.
The core principles at work in our Annual Survey are 'Customer Obsession', 'Ownership' and 'Learn and Be Curious'. Customers should always be thrilled with our service, we should take ownership of any issues, and we should learn and act on the feedback consistently.
Customer Survey Results
This year we asked four questions:
Would you refer a friend or colleague to Tossable Digits?
What are the best or most useful Tossable Digits features to you?
How could Tossable Digits be improved?
Endorse Tossable Digits! Tell us how Tossable Digits improves your life or business. Just a sentence or two is good, more is great.
The first two were multiple choice, and the last two were open-ended free-form text. We can quantify the first two, and the last two we're going to use some fun word clouds to aggregate responses.
Would you recommend Tossable Digits?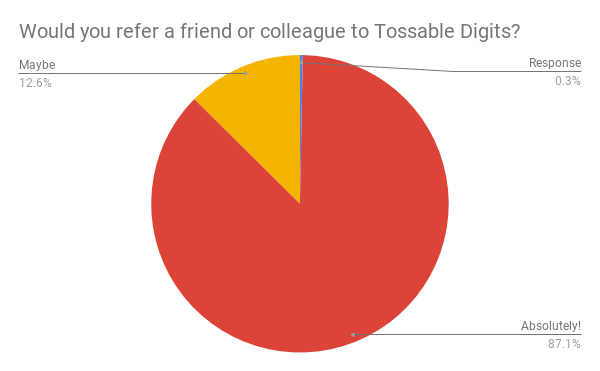 Hot diggity! 87.1% of responding customers would refer a friend or colleague to Tossable Digits. That's amazing, and we're thrilled to have such a high level of trust with our customers. While we have room to improve, this is great!
Most Useful Features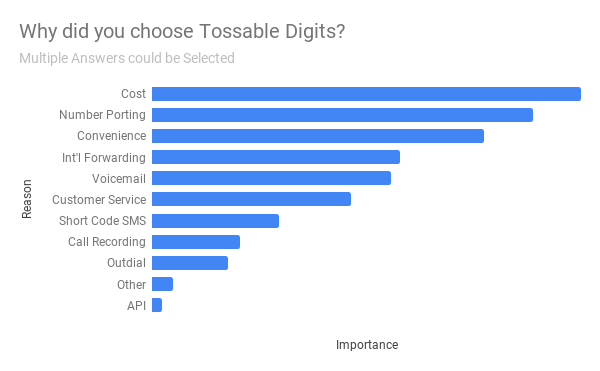 We've seen many customers who are Traveling Abroad and want to keep their mobile number active, but do not want to pay $40+ a month to their cell carrier. Starting at $3.49/month, we can keep your US or Canada phone number active while you travel the world, and you can transfer it back to the carrier of your choice when you return. We love it, and now we know you do too!
We also added support in the US and Canada for SMS Short Codes, allowing customers to receive Two-Factor Auth SMS messages from businesses and banks. In addition, we added Two-Factor Auth support as well to Tossable Digits accounts — please enable it to secure your account!
How could Tossable Digits be improved?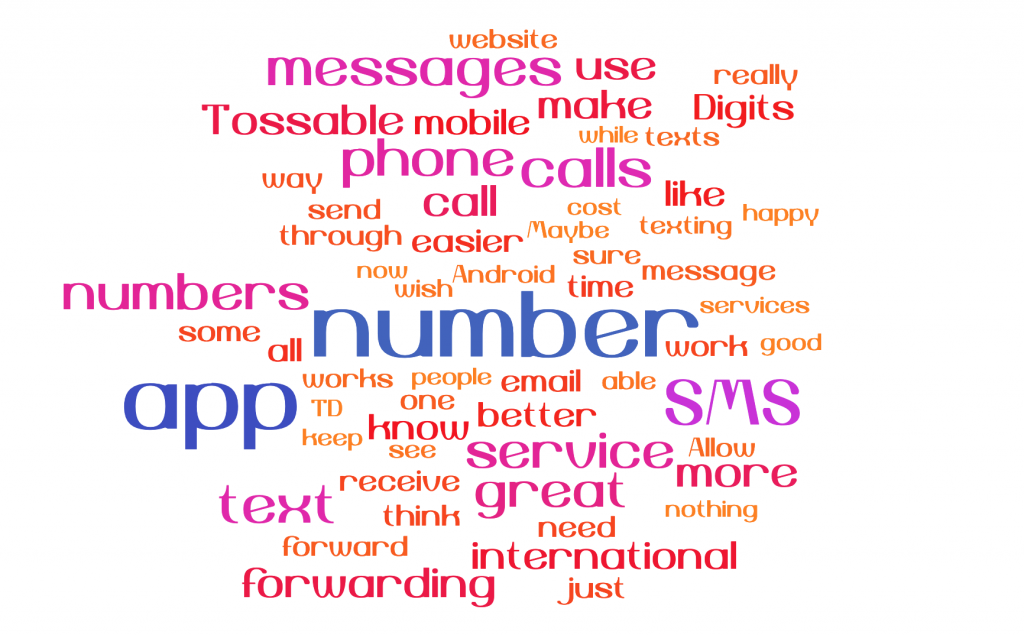 Generally people were positive about the service as-is, praising our reliability, customer service and free included features. But there were a few themes that kept coming up:
The desire for a Mobile App to manage numbers, make Outdial calls and Send and Receive SMS messages
Improved Web SMS Interface
Better Introduction to service for new customers
We hear you! We are working on a Mobile App and have started discussions with how to improve our web SMS interface and a better intro to our service for new customers. Keep the feedback coming! It's what allows us to grow and improve.
Tossable Digits Rocks!
This is our favorite question because we love Tossable Digits too!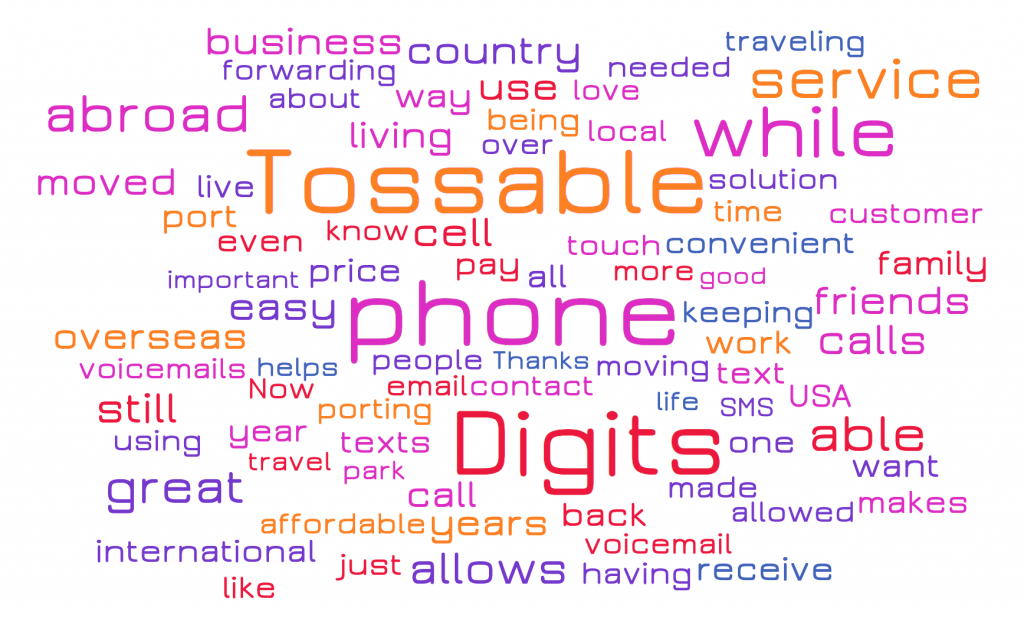 Love, great, helps, affordable, convenient, needed, Thanks, Wow!
These are just some of the common terms found in your feedback, and there is simply nothing better for us to hear. We are thrilled that our service helps customers solve challenges that they had before and improves their personal and work lives. Woot!
In Summary
We're so happy that we continue to delight customers with our service. We still have lots of improvements to make that will continue to drive our growth and customer satisfaction, and we are looking forward to delighting customers in 2019!