SMS Text Messaging allows you to send and receive SMS messages through your Virtual Number on your existing phone without disclosing your real phone number. You can forward SMS messages to your existing phone, send them via email, or both. And you can view and respond to all of your SMS messages on the web. It is a free and unlimited feature compatible only between US or Canadian numbers.
SMS Forwarding
You can configure your account to forward SMS to emails, a US or Canadian number or both. Our SMS delivery is usually instant, however, in some cases, it may be delayed by a few seconds or longer based on the email provider or external circumstances.


As of June 1, 2022, Forwarded SMS Messages will be billed at USD$0.02 per message, both incoming and outgoing. We suggest using our
Mobile App
with Push Notifications as an alternative.
SMS Text Messaging Configuration
Sending & Replying to SMS
You can send and receive SMS messages on our website with any of our Virtual Numbers that support SMS. Conversations are organized by date and recipient. And conversations that are started on the web can be continued on your phone, and vice versa.

You can move seamlessly between the web and your phone for all of your virtual SMS conversations. If you chose to only forward SMS to your email, a link to reply to the SMS is included in each email.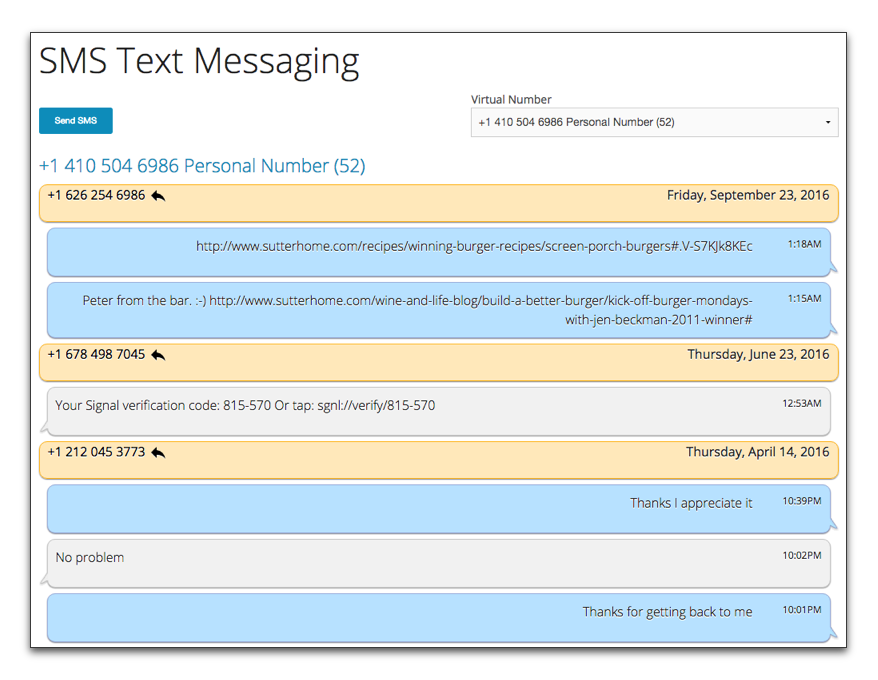 Starting an SMS Chat from your Phone

Please note that this feature will incur a charge of USD$0.02 per SMS message. We strongly encourage you to install our Mobile App as a free alternative.

If you need to start an SMS Chat with someone using your Virtual Number from your phone, you can send an SMS text to +1 201 468 8848 or any of our SMS Chat Numbers with the following text:

chatnew <Virtual Number> <Recipient's Number>

For example, to send an SMS message to 606-500-6000 from your Virtual Number 202-300-2000 you would send the SMS message:


chatnew 2023002000 6065006000
to any of our SMS Chat Numbers.
Our system will reply from one of our SMS Chat Numbers informing you that the SMS Chat has been created. Simply reply to send a text from your Virtual Number. Caution: Be careful not to include spaces in the keywords or the phone numbers! For example, "chat new" will be sent as an SMS message to the recipient, while "chatnew" will create a new chat.

Chat Numbers
Forwarded SMS Messages will come from one of these SMS Chat Numbers.

(201) 468-8848

(202) 760-2406

(301) 223-3323

(302) 444-6704

(401) 257-7780

(402) 500-2700

(501) 391-1511

(601) 633-3553

(701) 599-7971

(801) 999-1916

(901) 209-9992
SMS Limitations
As a virtual number, you can only send and/or receive standard text messages. Due to carrier limitations of our Virtual SMS Text Messaging service, our Virtual Numbers are not able to send or receive Pictures, Attachments, Contacts or any other special binary data transmissions. Virtual SMS supports only text-based messages.
Text messages involving International numbers will not be delivered or received.

At this time, users are unable to delete SMS messages from our service. We expect this to change at some point in the near future.