Support ⋟ SMS Text Messaging
Virtual SMS Text Messaging
SMS Text Messaging allows you to send and receive SMS messages though your Virtual Number on your existing phone without disclosing your real phone number. You can forward SMS messages to your existing phone, send them via email, or both. And you can view and respond to all of your SMS messages on the web. You can also exchange messages with non-premium SMS Short Codes (fees apply).
SMS Text Messaging is available on most US- and Canada-based numbers. Limitations apply, see link for details. SMS is not available on numbers in other countries.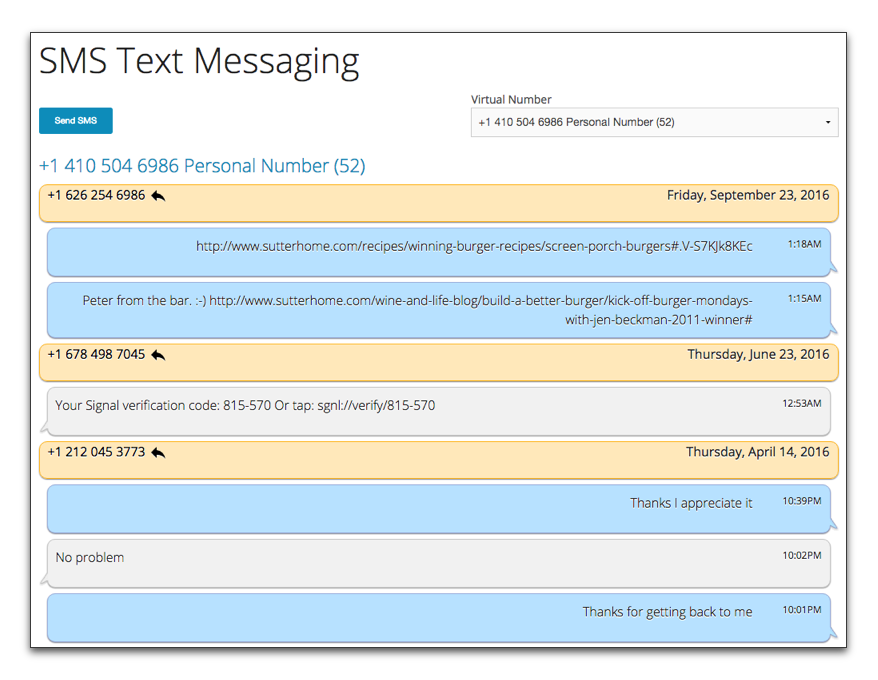 SMS on the Web
You can send and receive SMS messages on our website with any of our Virtual Numbers that support SMS. Conversations are organized by date and recipient. And conversations that are started on the web can be continued on your phone, and vice versa. You can move seamlessly between the web and your phone for all of your virtual SMS conversations.
SMS Forwarding
With SMS Forwarding enabled, incoming SMS messages sent to your Virtual Number will be forwarded to your existing phone, coming from an SMS Chat Number. These special SMS Chat Numbers are used to keep your real phone number hidden, while enabling you to interact with multiple people on multiple Virtual Numbers from within your existing SMS Messaging functionality on your mobile device.
When you reply to the SMS Chat Number, Tossable Digits receives your SMS, replaces the From: with your Virtual Number and the To: with your original sender, and sends the message. The recipient of your messages will only ever see your Virtual Number.
SMS to Email Forwarding
You can forward SMS messages you receive to your email. While you aren't able to reply to them, the email will contain a link to our website so you can reply.
Starting an SMS Chat
If you need to start an SMS Chat with someone using your Virtual Number, you can send a text to our SMS Access Number, available here once you are a customer, with the following text:
chatnew <Virtual Number> <Recipient's Number>
For example, to send an SMS message to 606-500-6000 from your Virtual Number 202-300-2000 you would send the SMS message
chatnew 2023002000 6065006000
to any of our SMS Chat Numbers. Our system will reply from one of our SMS Chat Numbers informing you that the SMS Chat has been created. Simply reply to send a text from your Virtual Number.
Caution: Be careful not to include spaces in the keywords or the phone numbers! For example, "chat new" will be sent as an SMS message to the recipient, while "chatnew" will create a new chat.
Other SMS Chat Commands
During an active SMS Chat, you can reply with a few specific SMS messages that our system will handle for you, instead of forwarding to your SMS Chat recipient. All of these commands are case-insensitive, but must not include spaces between the command words.
chatnew <Virtual Number> <Recipient's Number>

Creates a new SMS Chat with the Recipient coming from your Virtual Number
Example: chatnew 2023002000 6065006000

chathelp

Responds with a list of SMS Chat commands and what they do

chatinfo

Responds with information about the SMS Chat, such as the Recipient's phone number and the Virtual Number associated with the SMS Chat

chatend

Ends the current SMS Chat