Support ⋟ IVR: Interactive Voice Response
IVR System
IVR is short for Interactive Voice Response. Sometimes called Auto Attendant, Phone Tree, or Call Tree, this free feature allows you to record a custom greeting that is played to callers that asks them to "Press 1 for Sales, Press 2 for Support" and so on.

To Access the IVR Configuration:

Click on a Virtual Number to get to the Number Configuration page

Scroll down to Features

Click on the IVR tab


NOTE: When IVR is enabled, callers who do not press any digits after three replays of your IVR Greeting will be hung up on and not sent to Voicemail. IVR disables the Do Not Disturb, Screening, and Call Announce features, as well as the forwarding number.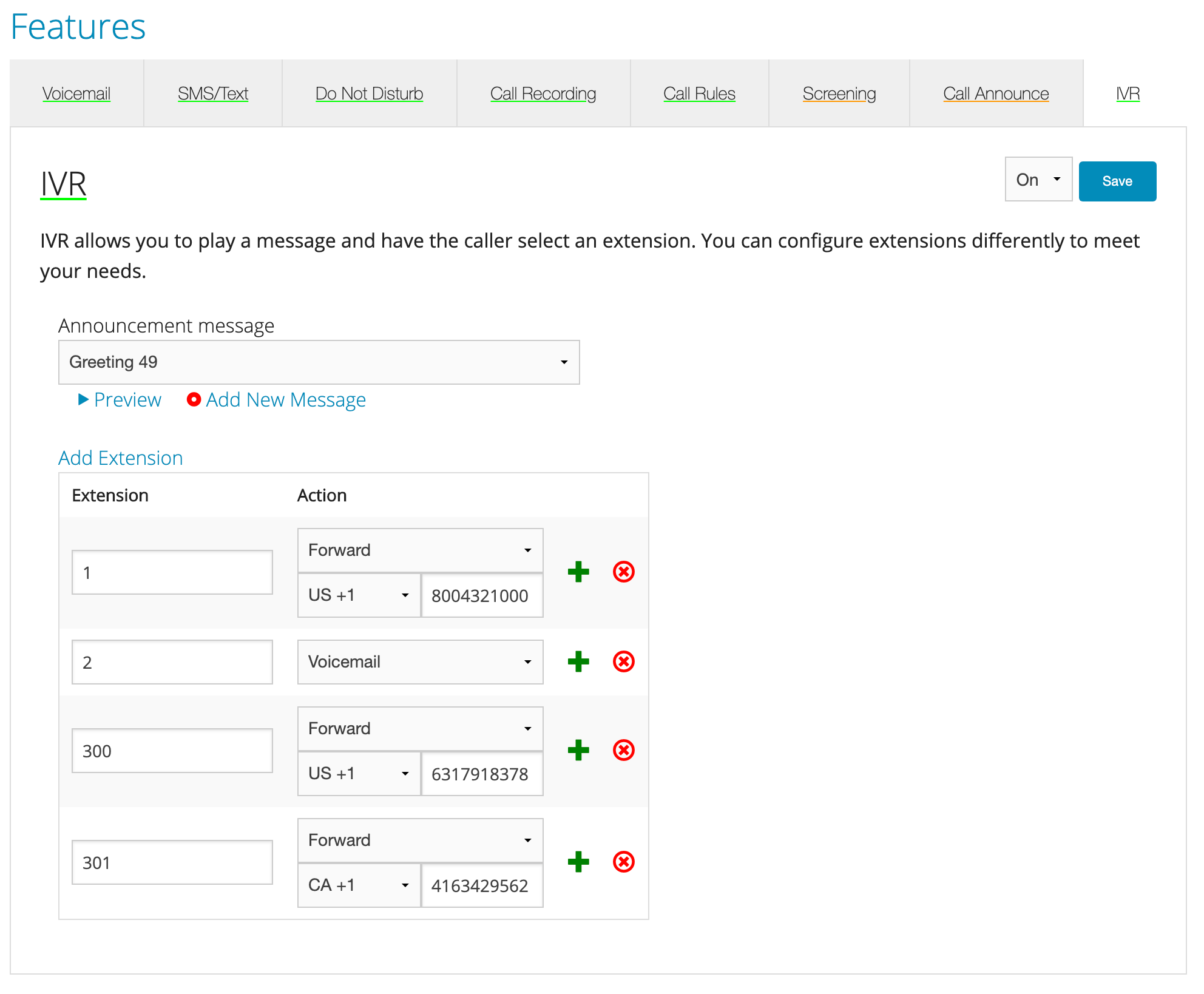 Virtual Extensions
You can have unlimited extensions attached to your Virtual Number. The extension length is also variable. For example, here is a complex setup:

1 Forwards to Sales

2 Forwards to Support

3 Forwards to Billing

300 forwards to Person A

300 forwards to Person B

NOTE: You'll want to ensure that you do not have longer extensions start with the same first digit as shorter extensions. For example, if Extension 4 forwards to Shipping, you do NOT want to also use 3 digit extensions starting with 4. While it will work, customers will hear a 3-5 second silence while the system waits to see if they will enter another digit. This is a bad customer experience and we do not recommend it.

Extension Actions
There are four types of Extension Actions:
Forward Call: Forwards the call to another phone number

Voicemail: Sends the call to your Voicemail

Busy: Plays a busy signal

Disconnected: Plays a "This Number is Disconnected" message