Support ⋟ How to Change your Forwarding Number
You can change your forwarding phone number as many times as you like, there's never any charge to do this. The changes are applied immediately, so any new calls that come in on your Virtual Numbers will be forwarded to the new phone number as soon as you change it.
1. Login to your Account.
Here's the
Login Page
.
2. Find the Virtual Number you want to update.
Once you find the Virtual Number on the My Account page on which you would like to change the forwarding number, click the gear icon to get to the "Number Configuration" page. You can also click on the Virtual Number itself, too.

3. Update the Forwarding Phone Number.
Change the phone number you would like to have your Virtual Number ring to, and Click "Update". You can select other countries from the dropdown menu.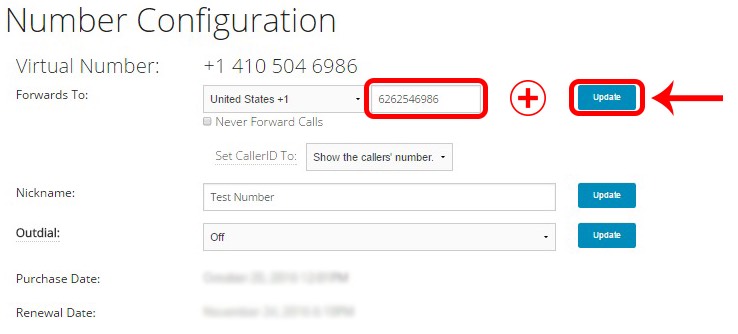 4. Alternately, you can disable Forwarding.
You can also select "Never Forward Calls" if you do not want your number to forward. Just make sure to click "Update" when you are finished to save all changes.